The Resplendent Mango
Thoughts, politics, soapbox rampages, amusing quotes, and excellent names for rock bands.
Παρασκευή, Απριλίου 07, 2006
Πληροφορίες
Όνομα: mango
Τοποθεσία: United States
"I'm just a bug-bitten fruit"
If you'd like to contribute to the costs of my internet connection, living expenses, subway fares, tuition, Broadway tickets, or whatever, I'd gladly accept. I'll even give you a link, a shout-out and my eternal gratitude, if you'd like.
Eowyn Voters League
BL*GROLL ME!
My Friends
Comics
The Watcher's Council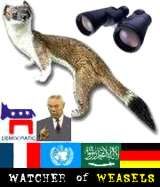 Current Terror Alert Level
I'M A PROUD MEMBER OF
Previous Posts
Archives
Syndicate this site
Glenn Reynolds Says:

"...The best bl*gging fruit since Andrew Sullivan!"
Like What You See Read Here? Nominate me!